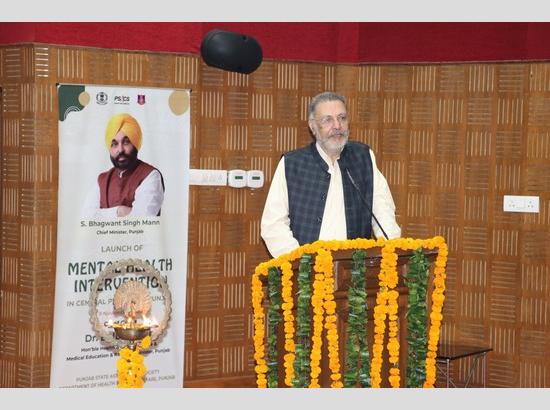 Mental health intervention program launched in Punjab jails by Dr Balbir Singh
Prisoners will be counselled under this program, says Dr Balbir Singh
Punjab Government will take care of the mental health of the prisoners: Health Minister
Yoga instructors will also be placed in jails
Babushahi Bureau
Chandigarh, November 9, 2023:
With the resolve of Chief Minister Bhagwant Singh Mann to bring reforms in jails of Punjab to make them as correctional centres, Punjab Health and Family Welfare Minister Dr Balbir Singh launched mental health intervention program in state jails. 
While launching the program during a state level function organized here at Municipal Bhawan, Sector 35, Dr Balbir Singh said that this initiative will provide screening, counseling and referral services to prisoners in four jails of Punjab viz Ludhiana, Gurdaspur, Patiala and Amritsar. 
The Health Minister informed that this project will soon be implemented across all the jails in Punjab. Counsellors have been recruited in these centers with the support of World Health Partners, who will conduct counselling with the aim of improving the mental health of detainees and prisoners.
Dr Balbir Singh said that this initiative will further strengthen our commitment to implement the Mental Health Care Act, 2017, which will make it mandatory for every state government to have a mental health facility in the medical wing of prisons.  
Underlining the mental health issues faced by the prisoners, Dr Balbir Singh said suicide is a major consequence of mental illness among inmates. The Supreme Court appointed Committee in its latest report has stated that suicide is a major cause of unnatural deaths among prisoners in India. The committee said that out of 817 unnatural deaths in prisons, 660 were suicides, which is quite worrying.
Dr Balbir Singh said that mental health issues among prisoners not only affect their well-being but it's implications are that every day there are seizures of mobile phones, drugs from jails. Now with this initiative good news will start coming from jails and the prisoners will be made self-reliant by giving them training and by improving their mental health.
Health and Family Welfare Minister said that out of 25000 prisoners in jails, 14000 prisoners are lodged there under NDPS act. All of such prisoners are not smugglers, but they are in jails due to drug addiction. Instead of sending these drug addicts to prisons, if they are sent to de-addiction centers by improving their mental health, the prison load can be reduced considerably.The reformed prisoners who are in the jails will also become role models for the society by giving up drugs and becoming self reliant.
On this occasion, Secretary Jail Shri Kumar Rahul, Special Secretary Health-cum-Project Director Punjab State AIDS Control Society Dr. Adappa Karthik, Director Health Services Punjab Dr. Adarshpal Kaur, Director Family Welfare Dr. Hitinder Kaur , Country Director of World Health Partner Dr.Prachi, IG Jail Roop Kumar and other Health Department officials, all District Jail Superintendents and other officials were present.

link