"I believe we're on the right path," Minister Dan Williams said of his government's plan. "This crisis needs to address care and compassion"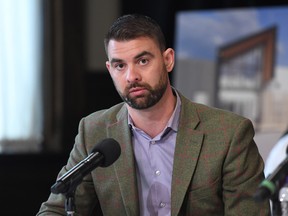 Article content
Developing compassionate intervention legislation and reviewing the role of Alberta Health Services (AHS) in providing mental wellness care will be among the priorities for Alberta's ministry of mental health and addiction in the coming months as it continues its focus on recovery-based care.
The priorities are among those outlined in a mandate letter from Premier Danielle Smith to Mental Health and Addiction Minister Dan Williams that was published Wednesday.
Article content
The letter calls on Williams to work "collaboratively with community and government partners to develop compassionate intervention legislation, supporting facilities and legal processes to save the lives of those that are a danger to themselves or others," echoing language found in the mandate letter to Justice Minister Mickey Amery that was published Tuesday.
The legislation was first pitched by the UCP during the spring election campaign. As presented, it would allow a family member, doctor, or police officer to petition the court for a treatment order when someone is determined to be a danger to themselves or others.
In an interview with Postmedia, Williams characterized compassionate intervention as an "incredibly important central piece" of the government's plan to address addiction.
"We know that addiction, running its course, ends in one of two ways. It either ends in misery, pain and death, or recovery treatment and a new lease on life," he said.
"This is care that is actually going to treat that illness of addiction."
The pledge drew criticism for potentially disproportionately affecting already marginalized populations and possibly violating charter rights.
Article content
Williams said he's confident any forthcoming legislation will pass constitutional muster.
"We have to balance this for civil liberties. But we have to also make sure that those individuals who are a danger to themselves or others are being compassionately treated."
The letter comes while the province continues to see a high number of overdose deaths and opioid-related calls, including 151 deaths in May and 770 deaths to date in 2023.
"I believe we're on the right path," Williams said of his government's plan. "This crisis needs to address care and compassion for those individuals suffering from addiction."
The Alberta-based advocacy organization Friends of Medicare issued a statement citing recent statistics to challenge the government's plan.
"We need a government that can recognize that there is no recovery if you are dead."
Opposition NDP critic Janet Eremenko also issued a statement also questioning the UCP's approach, calling it "an ideological approach."
"Danielle Smith is pushing forward with her forced treatment approach, which evidence shows is not effective, while leaving out significant details in this mandate letter."
Article content
Alberta Health Services review
The letter also calls on the minister to review a number of aspects of AHS and its role in mental health care.
It also calls on him to launch a "spending review" of the health authority as well as the creation of a dedicated mental health and addiction operations division with AHS.
Smith also asked Williams to ensure his ministry is "responsible for the management of Government of Alberta funding provided to AHS for the purpose of delivering mental health and addiction services."
He said those plans are all an effort to get the health care system on the same page as the government's plans for recovery.
"We need to make sure that across all different government departments, and within AHS as well, that we as the ministry of mental health and addiction are prioritizing and focusing on that policy direction."
Other priorities in the letter include expanded funding for Counselling Alberta as well as for care for Indigenous populations, including youths.
The letter also reiterates a number of previously announced commitments, including the construction of 11 new recovery centres, funding for mental health classrooms, and the province's integrated school support program.
link