Step 1. Needs assessment
Literature review
The literature review consisted of a realist synthesis that revealed what works to promote SAW among employees with CMHP, for whom, under what circumstances and how. The results of the review have been published elsewhere [5]. In sum, the synthesis, including 61 studies, demonstrates how a safe organisational climate and social support, especially by the supervisor, enable employees with CMHP to stay at work. More specifically, a trustful relationship in which the supervisor shows openness to talk about mental health conditions in an open climate, contributes to stay at work. Adequate and timely social support, from colleagues but particularly supervisors who are willing to assist and listen to work-related problems, increase the chance to stay at work among employees with CMHP. It was supposed that employees with CMHP can realize to stay at work through the following set of capabilities: a) by having meaningful relations and social support at work, b) by exerting control, c) by evaluating and adjusting the workload, d) by experiencing freedom to create opportunities for active coping, e) by experiencing better health, increased cognitive functioning and work performance. Facilitation, by an OHP, who acts independently, with sympathy and pragmatism, who provides an expert insight and who is familiar with the work and the work environment, also improves the likelihood to stay at work.
The literature review showed that most interventions still intervene on the individual, employee-level. The synthesis found that if those interventions focus on multiple elements, for example addressing both personal factors (symptom reduction and coping with symptoms) and work factors (coping at the workplace or a better work-related health), this leads to an increased likelihood to stay at work. Also, combining different strategies in interventions seemed necessary to change behaviour, such as an online guideline combined with the dialogue with a professional and homework assignments [5]. The results of this review were used to frame elements to promote SAW more thoroughly and provide content for the intervention.
Concept mapping study with multiple workplace stakeholders
For this study, workplace stakeholders (employees with CMHP [n = 18), supervisors (n = 17) and OHP (n = 14) provided statements on the focus question "What an employee with mental health problems needs to stay at work is…".
First, participants emphasized on the role and needs of the employee in this phase of being at work while facing mental health issues. Unambiguously, it is significant for employees with CMHP to experience a sense of autonomy and meaning in work, even when struggling at work. Especially in this phase, it deemed important to experience self-control in work and a sense of responsibility to address problems. Participants mentioned it is important for them to jointly consider solutions, in which both employee and employer take their responsibility to act and intervene.
Second, supervisor support, reflected by a trustful relationship and empathic communication, is perceived to be highly important because it enables employees to address problems. A pre-existing strong work relationship, that is based on trust, sincere interest, openness and transparency is crucial to adequately support employees who struggle at work, because it encourages employees to earlier disclose and converse about their mental health problems. In that last case, this dialogue between employee and supervisor is ideally held in a social safe work environment. Such an environment enables them to discuss the impact of problems in work and what the employee needs to stay at work, ideally with an involved supervisor who adheres a pro-active, open, listening and non-judgmental attitude.
This leads to the third point, that work should be matched to the employee's capabilities and needs through (timely and temporarily) work- or workplace accommodations. Also, professional and organizational support should be arranged by the employer. It was emphasized that the employee and supervisor should be in contact regularly, to assess and monitor the tailored job accommodations or interventions. Lastly, the occupational health service provider and the organization should set a clear goal, based on a shared vision on how to promote SAW and should collaborate to select tailored interventions in a particular case.
Focus groups and interviews with supervisors and OHPs
In addition to the above findings in which we investigated promoting factors to SAW for employees with CMHP, we also explored the needs of supervisors and OHPs on how to support employees to SAW through interviews and focus groups.
Table 1 summarizes the most important findings of the needs of supervisors in order to promote SAW, in random order. In sum, supervisors expressed that they need to be facilitated by their own organization in coaching or tools to gain knowledge. Also, they need skills on conversing about mental health and work. They especially lack knowhow on early signalling of mental health problems and information on what they can or cannot ask the employee. Besides, they express the need to know what interventions and job accommodations to offer and how to communicate about this accordingly, both towards the employee as towards the rest of the team. Having easy access to an OHP for consultation or being trained by them was given as a solution by supervisors.
Supervisors mentioned they prefer practical tips when being coached and a tailored approach during the intervention. Supervisors emphasized that such coaching could increase knowledge and positive attitudes towards diversity and mental health, needed to be reflected by all layers of their organization. They said to prefer easy access and strong collaboration by an expert in occupational health, also in this preventative phase. OHPs confirmed that in order to discuss ideas, share knowledge and increase skills of supervisors, they will need a guideline as a "conversation tool", including a protocol on how to implement this intervention.
From this comprehensive needs assessment, we conclude that strengthening the individual supportive behaviour of the supervisor seems crucial to promote SAW among employees who struggle but stay at work. More specifically, we hypothesize that intervening on strengthening behavioural determinants of supervisors (e.g. attitude, skills, self-efficacy) will lead to supportive behaviour, which in turn might enable employees with CMHP to (partly) stay at work. Furthermore, the needs assessment revealed that supervisors can only effectually signal mental health issues and support employees with CMHP in a safe organizational climate. Having strong work relations among team members and supervisor and to know employee's regular working behaviour seems conditional for a "mentally healthy workplace". Supervisors expressed a need to be strengthened through coaching in ways to promote SAW among these employees.
Step 2: outcomes and objectives using a logic model of change
Program outcomes
In the second step, together with the planning group, a specific logic model of change was developed including program outcomes and objectives. The model was chosen based on the literature and group discussion on the feasibility of this model in the study context. The Integrated model of behaviour prediction for employers [37], depicted in Fig. 2, is selected as the logic model of change. This model assumes that the supervisors' individual behaviour is based on their skills, as well as on their intention, influenced by attitudes, social pressure, self-efficacy and general motivational factors. This model incorporates general motivational factors and environmental factors, that permits in our model of change to adhere an integrative approach with the work environment. It also adds Bandura's notion of self-efficacy, and intention, attitude and social norms, as an extension of the reasoned action approach [31]. Reflecting on the results of the needs assessment, those behavioural determinants match well, as it is important to have positive attitudes and social influences towards mental health at the workplace and believe in themselves (self-efficacy) to signal and address problems with employees. Supervisors may need to increase skills on how to deal with problems at work due to CMHP. Besides, this model integrates environmental (organizational) factors that influence the behaviour of supervisors. These reflect for example organizational support, team responsibility, the role of higher management, or the learning climate within the organization. Prioritization occurred by selecting the most relevant and changeable actions for supervisors, so these environmental, mostly contextual factors are therefore considered as basic conditions and not addressed as outcomes of the intervention. Criteria to select these actions were that actions were work-related, prioritized as important in the concept mapping study and selected on relevance and changeable by SV and OHP in the focus group sessions.
In conclusion, supervisor's support outcomes were defined as follows:
The supervisor's intention to support, which may be influenced by general motivational factors, attitude, social influence, self-efficacy;

The supervisor's skills to support and how to deal with problems at work;

The supervisor's actual supportive behaviour, which may be influenced by the intention, skills and environmental factors.
Performance objectives and change objectives
The main objective of the intervention is to strengthen the supervisor's supportive behaviour to promote staying at work for employees with CMHP. A large variety of behavioural actions were mentioned, resulted from the needs assessment. Subsequently, the abovementioned behavioural outcomes were operationalized into a sequence of actions, clustered into five performance objectives (Table 2). These five performance objectives are based on the "employee's journey": from having no problems in work to being on short term sick leave due to CMHP. Translating the performance objectives into more specific change objectives involved a thorough and rigor selection of behavioural determinants. A matrix of these change objectives was developed. Table 3 provides three examples of change objectives per determinant, aiming to define what the supervisor has to learn or change in order to perform the specific behaviour [42]. Full matrices are available upon request.
Step 3: core values, methods and practical strategies
The same stakeholder groups as in step 1 selected core values of the intervention, see Table 4. For example, that the intervention is practical, behaviour-oriented and can easily be used and delivered in various organizations. Also, participants emphasized that only providing an informative guideline is not enough to facilitate behavioural change. Ideas on types of interventions were psychoeducation through a guideline, tailored advice or consultation on individual case level and coaching on supervisor's behaviour.
Thereafter, methods and practical strategies were chosen to influence the change objectives, using the best available evidence. In this way, each behavioural determinant (attitude, social influence, self-efficacy, knowledge, skills, self-regulation and behaviour) is covered by one or two methods (Table 5). Literature on adult learning, health promoting behaviour and mechanisms of change was considered, see references in Table 5. The selection of practical strategies was based on the core values, technical options, feasibility, findings of the needs assessment and existing knowledge. For example, active transfer of information goal setting, guided practice and action learning in group can be applied. Some strategies can be performed by supervisors independently, such as studying the content of the guideline, or identifying cases among their team members. Other strategies need to be carried out by the implementers (OHPs) of the intervention, through consultation or coaching sessions individually or in small groups. For example, to identify and adjust beliefs towards mental health or to provide feedback on conversing skills.
Step 4: production and pre-test of intervention and materials
In this step, all gathered information from previous steps was synthesized to produce the intervention. Below, the scope and sequence of the SAW-SG intervention is presented, consisting of an online guideline and coaching sessions. Thereafter, findings of the pre-test are reported.
Online guideline
The online guideline provides the supervisor with five step-wise themes on how to promote SAW (Fig. 3): 1) signal CMHP affecting the employee's behaviour or work timely, 2) talk about impact of CMHP at work, 3) stimulate employee's autonomy and sense of responsibility, 4) explore, facilitate and evaluate job accommodations to match work with employee's needs and abilities, and 5) ask for occupational health support to select tailored interventions. Each theme is presented in three 'layers': from short and simple to long and more in-depth information, in order to tailor the amount and depth of information to the available time and needs of the supervisor. The first layer provides the most important actions presented in bullet points for supervisors, the second layer includes brief explanation and more specific actions, and the third layer offers the complete theme, including dilemma's, checklists and additional information [53].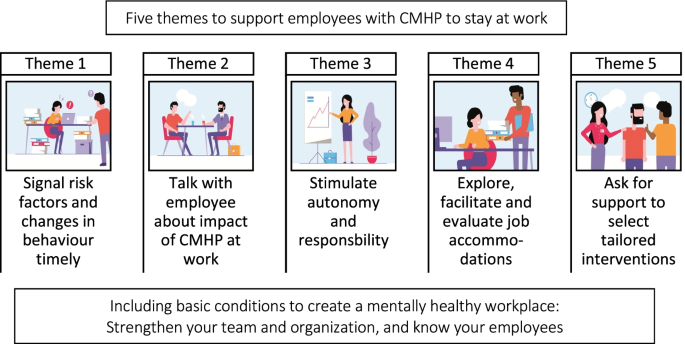 In general, the guideline stresses the dialogue between supervisor and employee. As shown in the needs assessment, much can be done by the supervisor in supporting employees who struggle with CMHP but are still at work. How persons talk about sensitive topics, such as their mental health, will depend much on the pre-existing relationship of employee and supervisor and the social climate in the work environment. Therefore, the guideline offers optional, supplementary information for supervisors to contribute to "mentally healthy workplaces", concerning the environmental factors. This information is presented by two categories with basic conditions. The first category represents ways to know your employees in their regular work, e.g. on work values of employee, promoting a relationship of trust, attention for risk factors. Also, it addresses how to create a good fit between employee and their work and gives examples of interventions, both internal and external. The second category with basic conditions reflects ways to strengthen your team and organization on team-responsibility, safe working climate, social support among colleagues, mental health literacy and goals based on a shared vision on a 'mentally healthy workplace' and psychosocial work exposures, such as job strain.
Before the pre-test, the guideline was carefully reviewed as a member check to increase internal validity. The reviewers (editor on language, planning group and OHPs) appreciated the information presented in 'layers'. They suggested to ensure the use of simple language so that supervisors supporting employees with a low socioeconomic position can also use the tools. Furthermore, they suggested to digitalize the guideline into an online product, a website, to increase accessibility and usability.
Interactive coaching sessions
Based on suggestions given by stakeholders and the selected methods and practical strategies, the interactive part of the intervention is drafted as follows. The guideline will be delivered through one plenary introduction session, followed by three monthly coaching sessions with supervisors, either individually or in small groups. Supervisors and OHPs mentioned that because it is a new approach, it is important to include other stakeholders within the organization in the process to create a supporting base on the organizational level, e.g. by inviting the HR professional during the introduction session. They also emphasized on the importance of delivering the intervention through the interactive coaching sessions. In those sessions, parameters for use (Table 5) are given, based on the needs assessment, chosen methods and strategies. For example, creating sense of urgency, identify possible solutions, advising supervisors per case and discussing dilemmas. These sessions were drafted around the content of the guideline, using input, such as cases or dilemmas brought up by supervisors to stimulate self-efficacy, skills and supportive behaviour. Ideally, these sessions were held by an independent OHP who has the following skills to apply the selected strategies: conversational skills on sensitive topics with both employers and employees and generally strong meta-communication skills such as non-judgemental listening, being patient and use of motivational interviewing. To ensure quality in those sessions, OHPs were trained on the guideline and coaching sessions before delivering the intervention, though a training based on the training protocol and training materials to facilitate the implementers.
Pre-test of the intervention
The prototype, a pdf version of the online guideline, was pre-tested by OHPs (n = 8) and supervisors (n = 7) on its usefulness, user-friendliness, and attractiveness. One supervisor dropped out due to time constraints. The pre-test was held fully online due to the COVID-19 restrictions in the autumn of 2020. The participants were positive about the guideline and found it useful, suitable and readable. Participants recognized the content of the guideline, its complexity and the practical information on actions to support. They also appreciated the 'layered' way of presenting information, however this could be improved using a website with more interactive and visual support. After the pre-test, the guideline was critically appraised and shortened by removing repetitions in text. Visual improvements were made on the online website to ease navigation and attractiveness. Also, more examples and actual workplace dilemmas were added. Lastly, as suggested by participants, an overview of all interventions available for employees to refer to was added.
As expected, participants confirmed that using the guideline by studying the five themes may increase intention (positive attitude towards mental health, social influence by feeling not alone in this, and self-efficacy since supervisors gain insight into their supportive behaviour through the guideline), however improvements in skills and actual supportive behaviour occurs through training and coaching. Therefore, participants particularly appreciated the interactive coaching sessions, in which they discussed the most applicable tools and actions in their particular situation and they were challenged to reflect upon their behaviour. They also suggested to invite someone with lived experience of CMHP, to share experience talking with employees rather than talking only about employees with CMHP. Therefore, we included this in the training of OHPs and during the introduction session with supervisors, by inviting employees who are experts by lived experience, from advocacy organizations.
OHPs mentioned that the training protocol offered them clear instructions on how to introduce the guideline, but at the same time they valued professional flexibility to adjust the selected strategies and training material in the interactive sessions to their own organization. They also found the selected strategies useful, for example to identify current beliefs and to set and evaluate goals through feedback.
Step 5. Planning for adoption and implementation
In the fifth step, a plan for the adoption and implementation of the intervention was developed. The following requirements were identified for optimal adoption of the intervention. First, higher management of the participating organization should support the implementation of the SAW-SG. Second, representatives in organisations regarding occupational health services and human resources need to recognize the urgency of the problem (by high numbers of absenteeism) and need to be motivated to a novel intervention. Third, it seemed beneficial that the OHP and the particular representative in the organization have yet established a working relationship, which can help for example to identify supervisors as participants. Lastly, it is important that organizations receive clear and concise information about the process and content of the intervention, especially the benefits, costs and amount of time it takes for all involved stakeholders.
The experiences with the SAW-SG intervention will be assessed in an implementation and evaluation study in 2021. We aim to include approximately 20 OHPs for implementing the SAW-SG intervention, delivering the intervention to 3–6 supervisors per organization. Participants agreed on the following success factors for delivery of the intervention: that supervisors 1) are facilitated to spend at least 5 h to this intervention spread over 3 months, 2) are interested in such a project and 3) have recently or currently had at least one employee with mental health issues in their team, in order to practice during the intervention.
Step 6. Planning for evaluation
In the sixth and final step of the IM process, an evaluation design was chosen including a plan for the evaluation of the impact as well as the implementation process. To evaluate this intervention, we will use a realist evaluation approach answering the research question: what works (or not), for whom, under what circumstances and how [55]? We choose this theory-driven evaluation approach because implementation of interventions at the workplace highly varies as to how organizational support and occupational health services are organized (the circumstances), as well as the variety of implementation strategies (how does it work) between stakeholders on individual, interpersonal and organizational levels (and for whom). The forthcoming evaluation study will present results on the following aspects: the process of implementation, the mechanisms of change and contextual factors, leading to the intended and unintended outcomes.