Overview of study design
PrEP for Health is a two-arm RCT aiming to enroll 200 HIV-negative PWID attending two SSPs in MA (n = 100 per site). Based on the locations of recent HIV outbreaks and clusters among PWID, we partnered with two SSPs (i.e., study sites) in Lawrence and Boston/Cambridge, MA, jurisdictions heavily affected by opioid and stimulant use and injection-related HIV transmission. The SPIRIT figure of this trial, including the schedule of screening, enrollment and follow up visits, is illustrated in Fig. 1. In brief, participants are randomized 1:1 to receive the PrEP for Health intervention or an enhanced standard of care (eSOC) control condition, as detailed below. Participants are then followed for 12 months with major assessment visits scheduled at baseline and 1-, 3-, 6-, and 12-month follow-up timepoints. Participants receive escalating incentives across these assessment visits (ranging from $20-$50). Participants randomized to the PrEP for Health intervention also receive $10 for each of two primary intervention sessions. Participants provide written informed consent (described below). All study materials described in the sections below are available in English and Spanish (following professional translation and verification by bilingual research personnel). The Fenway Health institutional review board (IRB) reviewed and approved all study protocols. The following description of the protocol is based on Version 1.7, most recently updated and approved on 10/26/2022.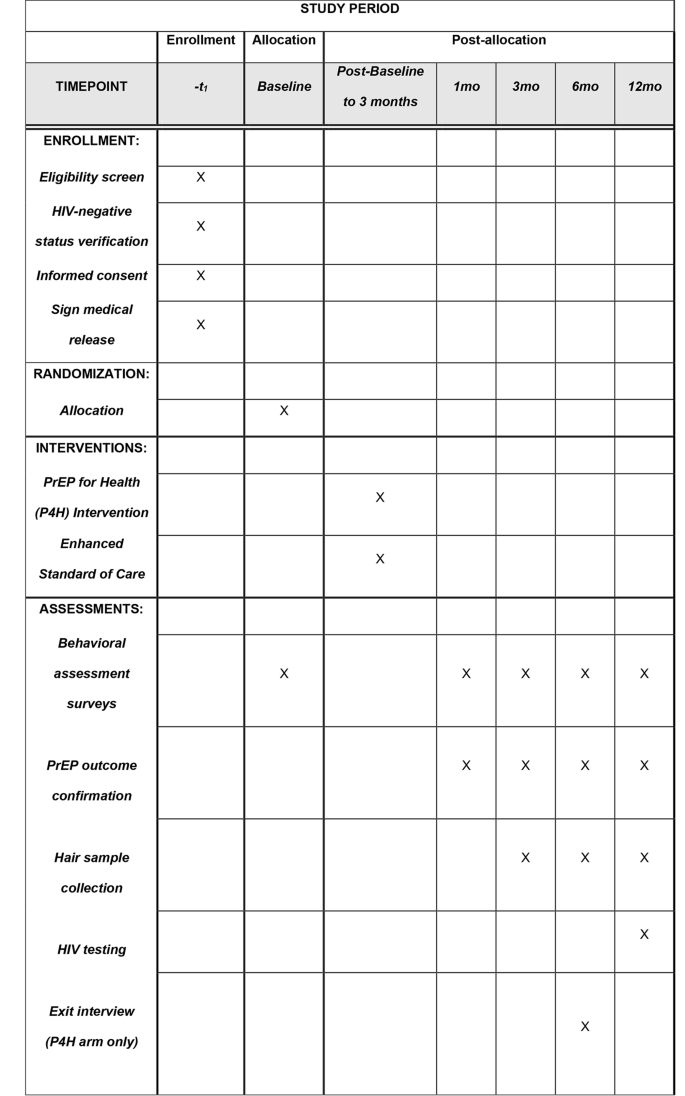 Participant recruitment and screening
Participant recruitment involves active and passive methods. At each SSP, research team members (including research assistants, project manager, and navigators) and SSP personnel (including program managers and outreach specialists) approach potential participants seeking SSP services to briefly describe the study and assess interest in participating. At both study sites, screening is integrated into standard SSP intake processes to facilitate efficiency and reduce participant burden. Active recruitment also occurs when research staff accompany SSP personnel during wider community outreach (e.g., via mobile outreach to streets, parks, homeless encampments, shelters, and other local service organizations). Passive recruitment involves posting flyers and sharing business cards at the SSPs, nearby health centers, substance use treatment facilities, churches, and other places where PWID congregate. Recruitment is currently ongoing.
With support from SSP personnel, who often know potentially eligible members of the target population and can refer them to the study, research staff conduct brief eligibility screenings. Detailed eligibility criteria are described in Table 1. In brief, eligible individuals are ≥ 18 years old; self-report injection of drugs for non-medical reasons in the past month; and are HIV-uninfected (confirmed using a rapid HIV screening test or enzyme-linked immunosorbent assay; ELISA). Individuals may enroll in the study prior to confirmation of HIV serostatus but are withdrawn if test results indicate HIV-positive serostatus. Anyone receiving a positive HIV test result is referred to HIV care through standard processes at each SSP.
Informed consent and enrollment
After confirming eligibility, trained study staff either conduct informed consent immediately or schedule an appointment for a later date, depending on participant preference. Study staff conduct informed consent in a private room using a consent document written according to Federal standards at or below an eighth-grade reading level that describes the study rationale, procedures, risks, benefits, measures to protect confidentiality, and participants' rights and responsibilities. After explaining all study procedures, study staff then answer questions and gauge comprehension using a brief, structured assessment. Individuals who consent to participate sign the informed consent form, which is reviewed by the Site PI or their designees.
Randomization
Following baseline assessments (see Fig. 1 and Measures section below for details), participants are randomized into either of the two study arms using a pre-programmed randomization module in REDCap. Randomization is site-specific to ensure balance within site. After randomization, participants randomized to the PrEP for Health intervention condition can elect to have their initial intervention session with the PrEP Navigator that day or schedule an appointment for a later date.
Timing of assessments
Research staff administer assessments at baseline (pre-randomization) and 1-, 3-, 6-, and 12-month follow-up visits (post-randomization). Assessments are not blinded, however only research staff uninvolved in intervention delivery administer follow-up assessments to reduce social desirability bias. Moreover, study staff use standardized survey instruments and are instructed in how to mitigate bias in survey administration. Between 6- and 12-month assessments, check-ins (by phone or in-person) are incentivized ($10/check-in) to update locator information, support retention, and facilitate ongoing communication between major assessments.
PrEP for Health Intervention condition
PrEP for Health is a two-session, manualized, multicomponent intervention grounded in SCT and informed by prior interventions with similar populations. Given that a key strategy is MI, draft manuals were reviewed and refined by a certified Motivational Interviewing Network of Trainers (MINT) trainer. The intervention is delivered by trained PrEP Navigators through up to two in-person intervention sessions at SSP study sites, followed by ongoing navigation support for a period of three months. The two in-person intervention sessions cover PrEP uptake (i.e., "Module 1," which may be repeated during the second intervention session if necessary), and PrEP Adherence and Persistence (i.e., "Module 2"). Navigators are individuals without healthcare training who have personal or professional experience working with PWID (i.e., they are not licensed clinical social workers and no other certifications or licenses are required).
Interventionist training and supervision: PrEP Navigators receive extensive training in the intervention manual content (including detailed background information on HIV transmission and PrEP); MI (involving an initial 8 h of self-paced web-based training); principles of harm reduction (including overdose prevention), cultural humility, and trauma-informed services; problem-solving and de-escalation techniques; and research ethics. An MI-experienced licensed clinical social worker conducts ongoing supervision and training to enhance intervention delivery and ensure fidelity to the intervention manual and principles of MI.
Module 1: PrEP uptake: In the first in-person intervention session, PrEP Navigators use specific strategies to deliver individually tailored HIV and PrEP education and MI to address HIV risk perceptions and increase PrEP interest and motivation. PrEP Navigators also use this session and ongoing follow-up interactions (described below) to engage participants in problem-solving and planning to build their self-efficacy and behavioral skills to facilitate the process of obtaining initial PrEP screening and prescriptions. PrEP Navigators use patient navigation techniques to assess barriers to PrEP uptake, navigate the PrEP medical care system (e.g., through supported referrals to SSP-based or other local prescribers familiar with healthcare for PWID), and engage participants in problem-solving and planning around anticipated challenges in obtaining PrEP prescriptions (e.g., overcoming insurance or copay barriers). If participants do not initiate PrEP within one month of this initial intervention session, this PrEP uptake-focused content (i.e., Module 1) can be repeated in participants' second intervention session to help trouble-shoot around initial uptake.
Module 2: PrEP adherence and persistence: For participants who initiate PrEP, in the second in-person intervention session, PrEP Navigators use similar strategies described above (e.g., MI, patient navigation techniques, problem-solving and planning) to motivate and support participants in achieving optimal PrEP adherence and persistence. This includes problem-solving around adherence challenges and anticipated adherence facilitators informed by evidence-based interventions and formative research (i.e., specific "steps" towards optimal adherence such as planning for transportation to pharmacies and PrEP care appointments). Finally, PrEP Navigators support participants in developing an individually tailored PrEP routine, including planning for future PrEP prescription refills and care appointments, and devising plans for handling missed doses and lapses in PrEP care.
Ongoing PrEP navigation support: For three months after the initial intervention session, PrEP Navigators provide additional, ongoing MI and PrEP navigation, as needed, through in-person, phone, and text-based interactions to support participants in coping with ongoing or new challenges with PrEP uptake, adherence, and persistence. Near the end of this three-month period, PrEP Navigators' help participants plan for ongoing PrEP adherence and persistence.
Enhanced standard of care control condition
Following randomization, participants in both the PrEP for Health intervention and eSOC control conditions watch a brief educational video on PrEP that was adapted by our research team from existing resources (e.g., whatisprep.org). The video is available in English and Spanish and uses non-technical terminology to describe what PrEP is and how it works to prevent HIV via sexual and injection exposures. Additionally, all participants, regardless of study condition, are eligible to receive any services offered at the local SSP study sites, which includes referrals to local PrEP clinicians and other healthcare providers. Moreover, participants who attend local PrEP clinics and are deemed clinically eligible for PrEP may be prescribed PrEP according to standard clinical practices.
Measures
At all major assessment visits, participants complete interviewer-administered assessments of HIV and PrEP knowledge, perceived HIV risk, PrEP interest and self-efficacy, and patterns of substance use, sexual behaviors, physical and psychosocial health conditions, and health service utilization. Socio-demographics (e.g., race/ethnicity, age) are assessed at baseline only. Medical record review is conducted throughout the course of the study. Biological measures of adherence to oral PrEP (i.e., concentrations of tenofovir in hair samples [70, 71]) are collected at 3-, 6- and 12-month follow-up visits only, and incident HIV infection is assessed at 12-month follow-up visits only (Table 1). Because a long-acting injectable PrEP medication has recently been approved for prescribing among people who have sexual exposures to HIV, [71,72,73,74] some participants might use this newer formulation instead of oral PrEP medications. For participants who use injectable PrEP, which must be administered by a healthcare professional, we will track adherence using medical and pharmacy records, as biomarkers of adherence to injectable PrEP are not available and may not provide additional information on adherence beyond review of medical and pharmacy records.
Co-primary outcome measures: Our first co-primary outcome, PrEP uptake, is primarily assessed via visual confirmation that a PrEP prescription was filled and received. At each follow-up assessment, we also request that participants bring in their PrEP prescription packaging to confirm that the prescription was picked up. For injectable PrEP, uptake will be defined as receipt of their first injection,
Our second co-primary outcome, PrEP adherence, is assessed only among those who report initiating PrEP (i.e. taking at least one pill or receiving at least one injection). We assess adherence at 3-, 6-, and 12-month follow-up visits by collecting hair samples to test for the presence of detectable levels of tenofovir, which reflect adherence to either tenofovir disoproxil (TDF) or tenofovir alafenamide (TAF) over approximately the prior month. Samples are ~ 50–100, 1-2 mm-long strands of hair cut with scissors. Samples will be analyzed at the University of California, San Francisco, Hair Analysis Lab for quantification of tenofovir levels [69]. We supplement this biological monitoring with self-reported adherence at all major assessment visits. For injectable PrEP, which involves a monthly intragluteal injection for one month and then bimonthly injections thereafter, optimal adherence will be defined as receipt of injections within one month of their target injection date, which is the time at which people would need to reinitiate monthly injections for two injections (i.e., reload) due to waning drug levels.
Secondary outcome: We assess our secondary outcome, PrEP persistence, using pharmacy and medical records to confirm prescription refill maintenance and attendance at PrEP care follow-up visits. PrEP persistence will be defined as having ≥ 16 days of oral PrEP medication filled per 30-day period, or receiving PrEP injections within one month of their target dates, for at least three-quarters of the months since initiation to study completion (approximately 9/12 months) [76].
Conceptual mediators: Informed by our preliminary studies, conceptual mediators of intervention effects are measured by self-report at each major assessment visit and include HIV knowledge (assessed using selected and adapted items from the International AIDS Questionnaire [78] and the Marsch HIV/AIDS knowledge test [78, 79]), perceived HIV risk (using items adapted from the validated Perceived Risk of HIV Scale [80]), and PrEP knowledge, interest, motivation, and behavioral skills (using items adapted from research with people who use drugs [81]). PrEP use intentions and self-efficacy are measured using selected and adapted items from work by Walsh, [82] and anticipated PrEP stigma from work by Calabrese, et al. [83]. Structural barriers to PrEP access include healthcare access and utilization (items from the National HIV Behavioral Surveillance Survey [84]) and stigma from medical providers (from Fong, et al. [85]).
Epidemiologically linked moderators: Also based on our formative research, we hypothesize observing heterogeneity in intervention effects according to participant age, gender, and baseline sexual risk (specifically, condomless vaginal or anal sex) and polysubstance use (including stimulants), assessed by self-report at baseline and follow-ups assessment visits.
Statistical analyses
Planned preliminary analyses include assessing distributions and autocorrelations across time for all variables. As we are utilizing interviewer-administered survey assessments, the primary anticipated reason for missing data is participant attrition. Based on our preliminary studies, we are anticipating and accounting for 20% attrition. Attrition effects will be evaluated by testing whether systematic differences exist between participants who complete the research study and those who discontinue participation. We will explore strategies (e.g., multiple imputation) for imputing missing data based on patterns of missingness, using sensitivity analyses to determine the optimal method of handling missingness. Dependent variables will be examined to determine which distributional models are most appropriate for subsequent statistical procedures. We will examine the equivalence of the random assignment with regards to key baseline characteristics, including socio-demographics and risk behaviors.
Aim 1: Our primary analysis will compare PrEP uptake and adherence (co-primary outcomes) between the PrEP for Health intervention and eSOC conditions. For PrEP uptake, we will perform chi-square tests to examine group differences in proportions over the course of the study, and Cox proportional hazard models to assess differences in time to PrEP initiation. For PrEP adherence, we will initially assess differences in adherence at 3-month follow-up visits. We will also conduct longitudinal analyses to assess differences in adherence over the course of the study (12 months). We will use generalized linear models (GLMs) with properly chosen link functions. GLMs will be estimated using generalized estimating equations with robust standard error estimates (GEE), which provide an extension of regression analysis to the case of correlated or repeated observations and allows for inclusion of both categorical (e.g., binomial) and count-dependent variables (e.g., Poisson, zero-inflated) and appropriate modeling of covariance structures when observations are correlated across time. We will follow an intent-to-treat model, analyzing participants according to the study arm to which they are assigned, regardless of fidelity to assigned group. Sensitivity analyses will compare those who receive the intervention session(s) to those who do not. All analyses will use two-tailed tests of significance, with significance at alpha level 0.05.
Aim 2: For mediation analyses, we will explore the role of hypothesized mediators using structural equation modeling (SEM) to determine whether the intervention impacts PrEP uptake and/or adherence through our hypothesized mediators. SEM will allow for the simultaneous estimation of total, direct, mediated, and indirect effects of the intervention on the outcome(s) via a set of multiple mediators, simultaneously. The fit of the overall model will be assessed, and individual paths will be assessed using path coefficients, standard errors for each path coefficient, and tests of significance of each coefficient [86]. Inferences for indirect effects will be estimated using bootstrapped confidence intervals.
Aim 3: To assess heterogeneity of intervention effects, we will examine interactions between the intervention and hypothesized moderators on both the multiplicative and additive scales. Multiplicative interaction will be estimated by including a treatment x moderator term in primary analyses described in Aim 1 above. Additive interaction will be estimated by calculating the Attributable Proportion due to Interaction (API), the proportion of the excess risk that is due to the presence of both the intervention and the moderator simultaneously. Significant or large interaction terms suggest that intervention effects differ by subgroups of the moderators. We will then perform stratified subgroup analyses to further investigate and describe heterogeneity between groups of individuals.
Sample size calculations
The primary power analysis was based on differences between the PrEP for Health intervention and eSOC conditions in PrEP uptake (co-primary outcome). Effect sizes are estimated from our pilot studies, as well as results of a large mathematical modeling study examining PrEP use among U.S. PWID [87]. Assuming baseline uptake at 25%, with uptake of 50% in the PrEP for Health intervention arm (effect size: d = 0.60), we need 80 completers per condition to have 90% power to find a significant difference at alpha = 0.05. Assuming 20% attrition, we will need to enroll 200 PWID (100 per arm).
Data management, safety and monitoring
All survey data is inputted directly into REDCap, a HIPAA-compliant, comprehensive data management system. Hard and soft-copy participant data is identified by an ID number only, and a link between names and ID numbers is kept separately in a password-protected file. Name-based files are stored separately from survey data. Soft copy data is stored on study-specific secure and password protected network drive folders and is only accessible to study staff. Hard copy data is stored in locked cabinets within restricted and secure areas at study sites.
All study staff are trained in confidentiality and have signed confidentiality agreements. Study staff have been trained in ethical human subject research practices to minimize participant risk. The investigators report unanticipated problems, safety monitors' reports, and adverse events to the Fenway Health IRB in accordance with IRB policies.
Given that this is a behavioral intervention with minimal risk, the study has no stopping rules and interim analyses will not be conducted. An independent Data Safety Monitoring Board has been assembled and reviews study progress, including safety concerns and adverse events, twice per year. All reports are shared with the IRB and the funder at least annually.
Dissemination plan
In addition to reporting on clinicaltrials.gov, findings from this study will be disseminated via peer-reviewed publications and conference abstracts/presentations. Moreover, presentations at community organizations, including our partner SSP sites, and government entities (e.g., local public health departments, CDC) will be conducted. We will also create easy-to-read infographics to share via social media and our research group website(s).
link